Chioma Nnanna Reviews Kunle Afolayan's New Movie 'The C.E.O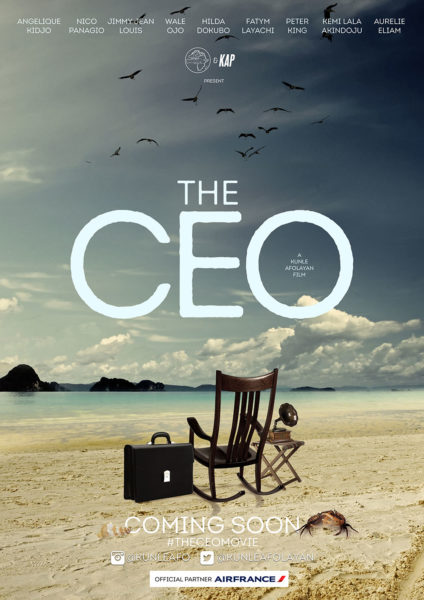 *Spoiler Alert*
Plot twists revealed
Ok so yesterday, I took my pretty self to the cinemas at 8:30pm to see Kunle Afolayan's "The C.E.O". I can think of a million other things I could have been doing at 8:30pm but it's Kunle Afolayan so I'm thinking, yeah, this should be worth it. Mind you, I paid full weekend price, popcorn, the works. I like being completely armed so if I don't enjoy a movie, it's the movie's fault. No excuses.
Now, let's begin with the pros, you know, because positive vibes. The picture quality was good and there were a lot of scenic shots. They made great use of the beautiful ocean scenery and natural light. Loved it. The set, of course, was great (I should have led with this.) Most of the movie was shot in Inagbe beach resort, a really great spot on the outskirts of Lagos. There were a few scenes outside Nigeria as well. The entire production was great; location, casting, et all.
Something else I found really impressive was the dialogue. Tade Ogidan did an excellent job there. I'm always particularly interested in phrasing and diction, and I was not disappointed at all. There were little or no signs of struggle in the back and forth. It's important to pay attention to all the nitty-gritty of a screenplay, which is something Nollywood movies have shown to lack, so I really appreciate Afolayan's effort in keeping it clean.
It doesn't end there. I'd have to give props to the team on appropriate casting. Wale Ojo is always a good choice. The man is just a delight to watch and whatever fitness regime he's been on is paying off nicely cos that body looking really good. He gave us that sexy sugar pappy vibe playing Kola Alabi. Give me a sugar daddy with ambition and heart any day. Also make sure that bank account fat cos what's the point if not, right? But, I drift.
Though I was just introduced to a few of the other actors, they showed professionalism and such a wealth of experience that was a delightful relief. Many times, when Nollywood decides to cast non-Nigerian characters they pick the first one they find and call it a day. The result is always a ludicrous mess but it's good to see the effort put into bringing the best performances.
Still on the casting, I think the most impressive performance, in my opinion, was Nico Panagio as Riikard Van Outen. No, not just because he's one sexy slice of vanilla; he's also a great actor. Facial expression for days, body language for years, the man set out to, as they say, killummmm. I, and my ovaries, were mighty impressed. Fatym Layachi and Aurelia Eliam both brought their A-game as well. Oh, and Angelique Kidjo. With charisma like that, it's hard to find any faults with the music veteran's performance. Ugh and all that sexy french. Mon dieu!